Former New Birth Elder, Dr. Wanda Turner Fasted For a Way Out of His Ministry
Former New Birth Elder, Dr. Wanda Turner Fasted For a Way Out of His Ministry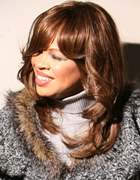 Former New Birth Elder Dr Wanda Turner Fasted For a Way Out of His Ministry [VIDEO]
We were checking out some videos of Dr. Wanda Turner and found one interesting video about her time at Bishop Long's New Birth Missionary Baptist Church in Atlanta. She was at Victory to Victory Church in London, England back in May.
Dr. Wanda Turner is a well known minister from the Central Valley of California. She's been a first lady and minister all of her life. Well, after the divorce of her husband nearly 12 years ago, she's been preaching and spreading the word all over the country and beyond.Well, Dr. Wanda A. Turner found an opportunity to be  an elder at New Birth Church back in 2006. We are not sure how her missionary experience under Bishop Eddie Long really was but we are pretty sure how it ended.
After nearly four years at New Birth, Dr. Wanda Turner was hit with shocking news of allegations against her then pastor Bishop Eddie Long and his sexual misconduct case. In the video, she explains how she was fasting over the terrible news that hit Atlanta and his church. She said she was approached by Bishop Eddie Long one day and he asked her:  "Why are you losing so much weight?"
And Dr. Turner replied angrily: "I'm fasting for you!" If you could hear her voice and see her face when she said this, you'd know the impact it had on her and what she felt about him at that point.
Dr. Turner stated he made light of it with a joke. She went on and stated how she laid in her bed crying and praying to God to send her to her next assignment. Apparently, Dr. Wanda Turner was sure her season at that church was clearly coming to an end.
Just as many things must come to an end, it would make perfect sense for him to step down for a few years and seek God. All of the scandal and events that have occurred since the settlement, will never be laid to rest if he does not step down. He's clearly hurting many people around him and if he doesn't have a heart for those who support him, then only God will handle him.
 To see the video at the point where she speaks about Bishop Long, you can do so by forwarding the video to 54:08 or listen to the entire sermon.