Con Man, Pastor and Former Teen Millionaire Pleads Guilty in Embezzling Funds from L.A. Area Church
Con Man, Pastor and Former Teen Millionaire Pleads Guilty in Embezzling Funds from L.A. Area Church
Con Man, Pastor and Former Teen Millionaire Pleads Guilty in Embezzling Funds from L.A. Area Church
This man, Barry Minkow has been a teenage millionaire, a convicted con artist, a fraud investigator and a religious leader – and now he can add 'church thief' to his list of vocations. 
The 46 year old Minkow pleaded guilty to embezzling funds from his San Diego Community Bible Church over the past 10 years, a U.S. attorney's statement said.
News reports say he was already serving a five-year sentence for a securities fraud conviction in Florida and could get five additional years when he is sentenced for the new conviction April 7.
His plea deal revealed Minkow admitted that:
he opened unauthorized church bank accounts
forged signatures on checks
and pocketed member donations for himself
'Barry Minkow is again convicted of fraud, this time for stealing money from the parishioners of San Diego Community Bible Church," U.S. Attorney Laura Duffy said. 'We stand vigilant against those who cheat and steal without regard to the consequences wrought on their victims and their communities.'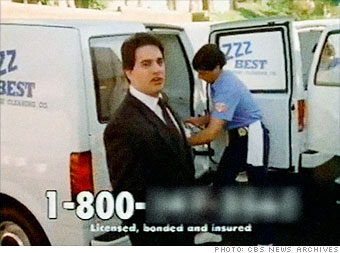 As a teenager, Barry Minkow gained national attention in the 1980s when he ZZZZ Best carpet cleaning company in Southern California at age 16.
On paper, he became the youngest person at the time in U.S. history to take a company public at the age of 21.
Unfortunately, ZZZZ Best turned out to be a Ponzi scheme and investors poured $100 million into phoney fire and water restoration projects.
It was in 1988 when Minkow was sentenced to 25 years in prison for cheating investors out of $26 million, He convinced them that his company was making $43 million a year.
-From 10News report