Bishop Larry Trotter To Be Married on Dec 24th Praise and Worship Leader, You're Invited!
Bishop Larry Trotter To Be Married on Dec 24th Praise and Worship Leader, You're Invited!
Bishop Larry Trotter Gets Engaged to Marry His Praise and Worship Leader
UPDATE on Dec. 15, 2013:
Bishop Larry Trotter is inviting all to his wedding. Yes he made an announcement: "You're invited to our marital celebration of Love !! Tuesday December 24, 2013 6:45p.m. Sweetholyspirit church….be happy for us and pray for us.."
The Bishop is moving forward and has invited everyone to celebrate his love with his fiance'. Will you be there?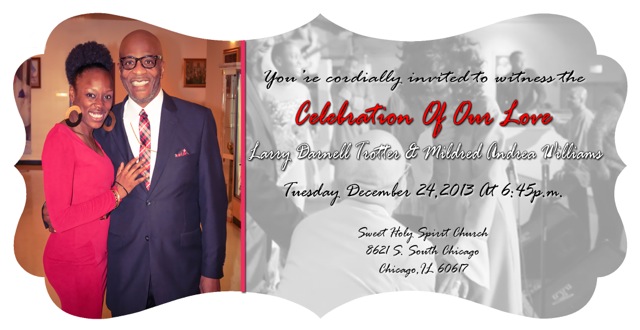 Article below was posted from Dec. 5, 2013:
Wow! Bishop Larry Trotter is getting engaged and its to his Praise and Worship leader. It doesn't seem to be that much of a big deal but his Facebook fans and friends have a problem with it. Some people are even attacking her, Mildred Andrea Williams. She tried to defend herself but he is stepping in as "her lover, her man and her covering." He says he will handle those who go against her and she can her her man to that for them.
Read below what he had to say exactly:
"On Sunday night I shared with the world that I have found my "missing rib" Mildred Andrea Williams. We have never been happier!!! Thank you for your posts of love, support and congratulations to us.

She's a feisty little lady who wanted to respond to the "haters" and negativity but I told her, she doesn't have to fight nor will I let her respond . You see, I am her lover, her man, her covering and I'll handle that if it becomes necessary. But some people aren't really that important. There was a day, we didn't know them. We must quickly dismiss them from our new day!"
The Bishop seems very direct in defending his wife to be. We are a bit surprised that he would say he is her 'lover and man' which suggests they have been 'intimate' and are not married as of yet. But, hey: who waits until their married anymore, right? Not even some pastors can do the right thing before their congregation and the people who find him to be holier than thou, right?
Now read his undying love for this woman which we are not 'throwing shade.' He is entitled to love like anyone else. Even gospel artist Deitrick Haddon can leave his wife and have a child out of wedlock and cause all kinds of controversy about his affairs and his alleged wife's affairs. These dog gone pastors who think they can do whatever they want, really have a lot of nerve!!
Read this:
I'm asking those who love us to keep us before The Lord. Lady Mildred and I have seen some very dark days and are overcoming some stressful pasts. But we know that God is working things out for our good (Romans 8:28). I promised in my "proposing moments"to take pain out of her life and I will live to do it.

The Lord has given me a woman who loves me unconditionally. A bride who gives of herself to me in ways that I have never seen love. This lady that I honor would walk to church in below zero weather to minister, take the bus to my house at night to check on me. She cleaned me up when I was sick, fed me like a baby and prayed with me often till day break !!It's my turn now to love her and lift her like she's never seen!!! We have decided to run through fire together !! Pray for us!! +LDT"
What do you think about this? Sure he deserves love but why not show it in some decency before the church? That is our issue.