Paula Deen's Today Show Interview: Live Blogging: "I is what I is and I'm not changing"
Paula Deen's Today Show Interview: Live Blogging: "I is what I is and I'm not changing"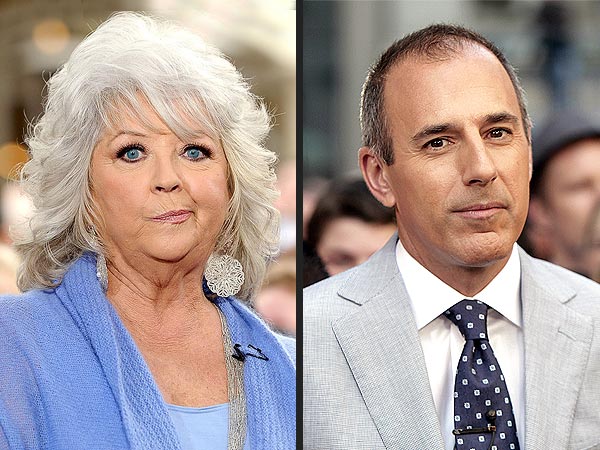 Paula Deen's Today Show Interview: Live Blogging
We are so happy that we have lived long enough and traveled enough places to know that people are really the same everywhere. The interview Paula Deen had today with Today Show's Matt Lauer reminds us of our experiences with people who are embedded with racism and can't help but expose themselves through their own words.
We can remember traveling through Mississippi after getting a flat tire and sitting in the waiting room while it was getting repaired. Out of the blue, a man speaks to us about how he's good friends with a black person. Wow! As we are from California and was traveling cross country to Georgia, this was just a another time we had experienced this. We had experienced it in back home too when a former employer stated she was accused of being racist by her employees. Again, this was an out of the blue event.
We mentioned these incidences because we have learned over the years and in different states across the country that people have guilt about being racist. In our opinion, anyone, who happens to be white, voluntarily tells a black person about their experience with other blacks or if they, (and this is a classic one), tell them they have 'black friends', is in fact telling them they are racist tendencies. It's either an intimidation tactic or words of guilt in order to attempt to prove they are not racist. Again, this is our opinion according to our experiences, but when you start to hear it too often, you begin to believe people are trying to prove something.
Now, here's an edited script of Paula Deen's interview on the Today Show. We took notes as the interview was live and in progress but we are writing it in our words and describing what she stated. Some parts can not be quoted exactly because again we were taking notes.
ML: "How are you doing today?"

PD: "It's hard to find the words. I was still in a state of shock and a lot of hateful lies said about me."
Here's what was stated about her endorsements:
PD: "Let me say this. What I believe and how I live my life… everyone should be treated equal."

ML: "Why are you here?" Matt asked 'are you here for money in order to stop the financial bleeding?' He explained that this interview would bring in money for her.
Paula Deen says 'she's distressed' over the whole thing.
ML: "Do you feel you are being treated fairly by your endorsers?… Would you fire you?" Deen replied no, and that she would not fire herself because she knows herself. Well, that was an easy one for her and she replied the way we thought she would.
Deen stated that QVC did not drop her but it is only the Food Network and Smithfield who have dropped their endorsements with her. She says QVC is monitoring the situation and she is grateful for all of her endorsers. In fact QVC's statement was:
We are closely monitoring these events and the ongoing litigation. We are reviewing our business relationship with Ms. Deen, and in the meantime, we have no immediate plans to have her appear on QVC."

ML: "You've used a word that is the worst to the word to use describe an African American."
She goes on about how a man put a gun on to her head and that was the last time she used the n-word which she alleges was back in the 1980's.
ML: "Do you know that black folk do not like that word?"
Paula Deen stated she's heard the word used in her kitchens amongst blacks and that she did not participate in the talk. It appears now she is putting it back on blacks using the word and not her actions. This is classic.
Then she begins to cry about how she hates liars and thieves and that she just does not lie about what she's done.
She doesn't blame people who don't know her and what they hear or read about her because they don't know its not true. She did state that some of the people who do know her feel the same way and that hurts her.
She says she has held friends in her arms who have sobbed for her because she says they know her better than what the press is painting her out to be.
The show stopper had to be when she asked anyone, while staring into the camera to throw the first stone and hit her as hard as they can if they have never done something wrong. Wow! While she's crying and choked up, we couldn't help but feel she was trying her best to get sympathy. Everyone knows that that first stone can not be thrown less we be hypocrites.
Now this next statement came as a dagger being twisted even more:
PD: "I is what I is and I'm not changing." She says 'someone out there is evil and saw what she had and wanted it.'
Now here's our take:
AT2W's Take: The interview was, we assume, a way to clear up some misunderstandings about what she has been accused of and what she has said about blacks, true or false. In our opinion, it was no different from her edited and cut video apologies she issued late last week. Though their were times when she seemed to be very honest, we feel she was not as truthful with the obvious concerns. According to using the n word and what the former manager is suing her for, proves she has used the n-word since her 30 year ago admission. Now, we can't say she's used the n-word anymore than that but the taped interview she did where she described her security guard as being 'dark as the board', may not be uttering the n-word but its certainly disturbing to hear her say this about a black man she calls a friend and a son to her.
Point blank. We think she is trying to stop the financial bleeding and that she has racist tendencies. If you really pay attention to what she says about being raised to not be racist, contrarily her actions show that she seems to be living as a slave owner. We say that according to the reports we have covered, the videos and interviews that have been produced in regard to her, we are convinced that she has racist tendencies and is living in a time warp. To prove our point, she said it best from her own words: "I is what I is and I'm not changing." Any questions?