Why Do Old School Gospel Artists Perform at Radically Inclusive Events? [Photos]
We found some information on some gospel artists who have been performing at gay and inclusive events. If you don't know what inclusive means its a doctrine that accepts and allegedly loves everyone including those from the homosexual community which goes against Christianity and the holy bible. Though it covers many other things, we will speak on what we mentioned to make our point.
Apparently, some of the gospel artists from back in the day have been booked for events that were sponsored for gay or inclusive purposes. We don't know if they knew beforehand who hosted these events but they were featured on posters.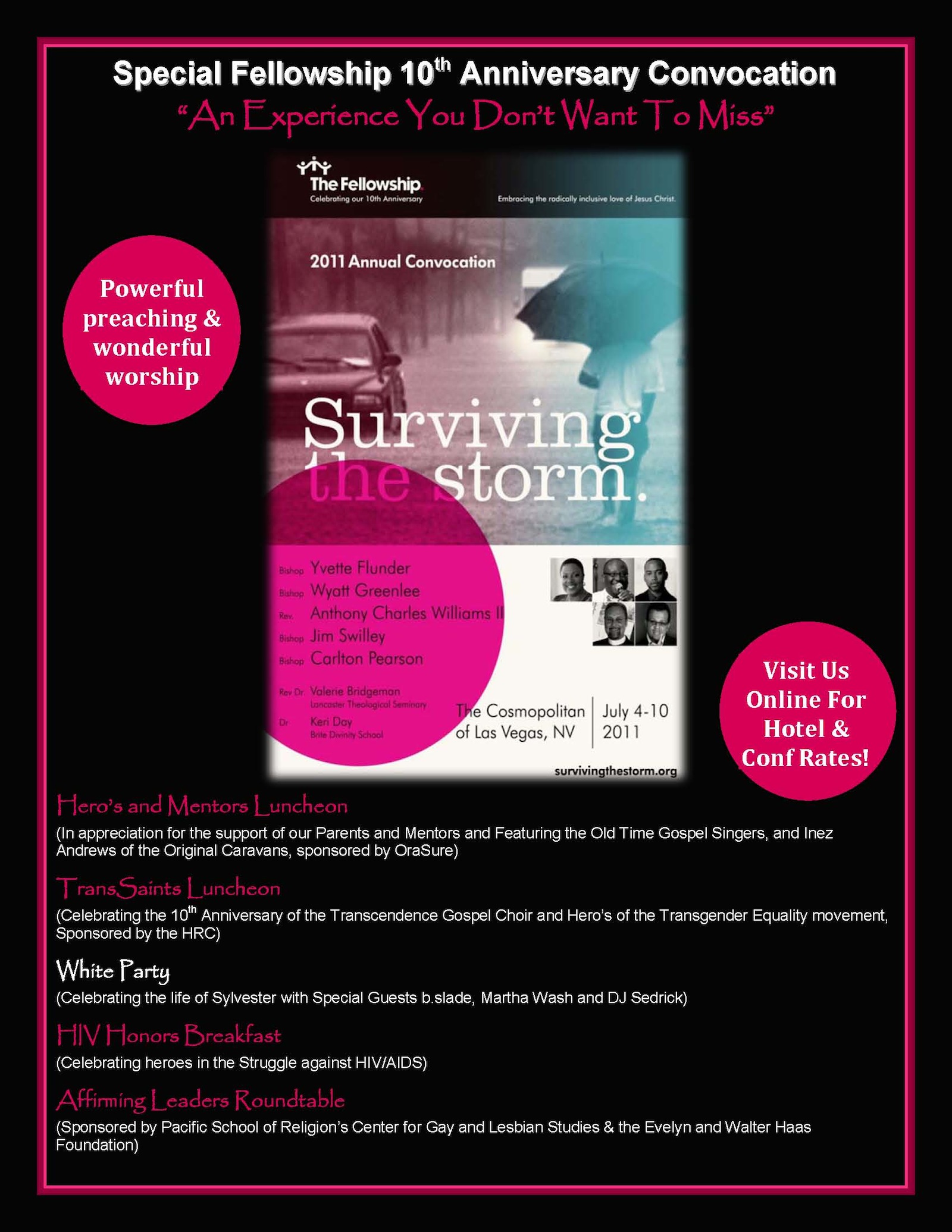 Now, the poster above (click to see) is a 7 day event organized by The Fellowship by lesbian pastor Bishop Yvette Flunder of City of Refuge  Church in San Francisco, Ca. It includes several events for the week of July 4- 10, 2011 honoring gay achievements but the first event was a Hero's and Mentors Luncheon where original member of The Caravans,  Inez Andrews was featured for their gospel entertainment.
Its been reported that the Caravans later became  an all lesbian gospel group founded by the late member Albertina Walker and Rev. James Cleveland. So there's no surprise that Inez Andrews would, even now, perform for gay events. But when will some of these old school gospel artists stop this foolishness and come to Jesus… for real? If someone's been singing songs for Jesus for over 40 and 50 years, isn't it time to get right?
There were others who attended the event as well but there are not surprises here. The others who proudly flaunt their love for gays would be:
Bishop Yvette Flunder- proud lesbian pastor who embraces just about anything homosexual and has done so for nearly30 years. Sadly, she's helped the black gay community feel accepted though she was raised by a strict COGIC pastor.
Rev. Anthony Charles Williams II-  aka Tonex' aka B Slade or whatever alter ego he chooses to dress up as in the morning- who is now openly gay and a former gospel artist.
Bishop Jim Swilley- nephew of Bishop Earl Paulk and an admitted gay man as he continues to preach behind the pulpit in Georgia.
Bishop Carlton Pearson- teacher of the Gospel of Inclusion after being a pentecostal preacher. He embraces all people and lifestyles though he has not admitted if he is gay or not.
Now this next event truly saddens us because these too, are gospel greats that we held up in reverence because we found their music to be holy.
In the poster above the event was in 2007 and sponsored by Bishop Yvette Flunder (btw, these are both her events). As you can see, The Caravans were present along with The Barrett Sisters. Can anyone tell us if any of these women knew where they were going to perform or did they care? And if they did not know, did they minister to those who needed  salvation from sexual immorality?
So, why do old school gospel artists perform at radically inclusive events?  We would assume either they did not know at the time or these events fit into their lifestyles. One thing about it, if the Caravans did not know in 2007 and refuted it, then we should not have seen Inez Andrews attending the same sponsored event 4 years later in 2011. If they are in fact homosexual, it would be better to come out and deal with it on God's terms than to continue to live in it and have the body of Christ wonder what they are doing. Its very disappointing to say the least.
Gospel artists, please wake up and stop playing around with your salvation. Its not cute nor acceptable in God's eyes. You are held to a higher standard as the bible states and will be judged more severely if you do not come to Jesus today.
Peace and we pray God's truth will be revealed.