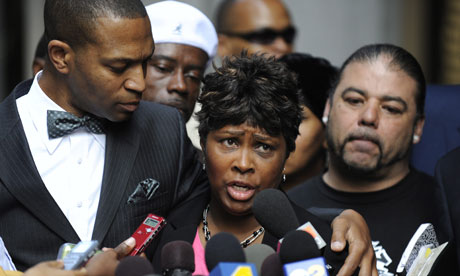 Oakland Mother Gets $1.3 Million From Bart for Oscar Grant's Murder
In Oakland, Ca., a San Francisco Bay Area Rapid Transit agency has agreed with to pay $1.3 million dollars to the mother of a 22-year-old unarmed black man who was fatally shot by a white transit officer in 2009.
Newsone.com reported, this settlement resolves a $50 million wrongful death and civil rights suit filed in federal court by Oscar Grant's family between Bay Area Rapid Transit and mother Wanda Johnson.
The shooting was recorded by bystanders and within hours videos of the incident were posted online showing Johannes Mehserle firing a bullet into the back of Grant as he lay face down after being pulled off a train, supposedly for fighting.
The videos were subsequently used as evidence during Mehserle's murder trial, further stoking the racial tensions brought on by the shooting. Mehserle tearfully testified that he meant to use his stun gun instead of his .40-caliber pistol.
But the shooting continued to spark debate and protests that on occasion turned violent. Last fall, more than 150 people were arrested in Oakland hours after Mehserle's sentencing. The most recent protest was a peaceful march to downtown Oakland a day ahead of Mehserle's June 13 release. Only one arrest was made at that rally.
This is the second settlement that BART has reached with the Grant family. The agency agreed to pay $1.5 million to the mother of Grant's 6-year-old daughter last year.
"We have said that we thought that verdict was a miscarriage of justice and the involuntary manslaughter was not a true representation of Mr. Mehserle's conduct," Burris said. "He got away with it."
"No amount of money could replace Oscar. Not one dollar or $100 million," said Johnson during a news conference in Oakland. "My heart feels broken for the loss of my son…

"It didn't have to be this way."
Former BART officer Johannes Mehserle, 29, was convicted last year of involuntary manslaughter for fatally shooting Grant on an Oakland train station platform on New Year's Day in 2009.
Mehserle was released this month after serving one year in Los Angeles jail after his high-profile trial was moved to Southern California.
Report from Newsone.com